**Only for registered medical practitioners in Malaysia with valid MMC numbers**
Frequently Asked Questions (FAQs)
---
How many modules are in this series?
There are 9 modules on this series. They revolve around basics of HIV / AIDS, pre - and post - exposure prophylaxis for HIV / AIDS, and Sexually Transmitted Infections (STIs).
---
How is this training conducted?
This self - paced course for primary care physicians is conducted via an online learning platform. Learners are required to enroll into HIV Connect, watch the lecture videos, and proceed to taking the quizzes.
---
Can I take this course for free?
Yes, this course is free of charge.
---
Who is eligible to sign up for this course?

Any registered medical practitioners in Malaysia with valid MMC numbers can register for this course.
---
I do not know my MMC number. How can I find it?

You can find your MMC number at http://mmc.gov.my/index.php/medical-register
---
When will I have access to the lectures and quizzes?

Immediately. Once you fill in your information and enroll into the course, you will have access to all the videos, quizzes, and resources. However, you will need to verify your account by responding to our enrollment email within 5 working days. Failure to verify your account will result in your account being blocked and all your progress will be lost.
---
How long will I have access to materials on this platform?
You will be able to access all materials on this platform until June 2020.

---
By doing this course, am I eligible for CPD points?

Yes, you will be awarded 1 CPD point for each module completed. For 9 modules, you can gain up to 9 CPD points.
---
Will there be a certificate provided at the end of this course?

Yes, there will be an e - certificate emailed to you once you passed the quiz.
---
How do I submit the e - certificate to gain CPD point?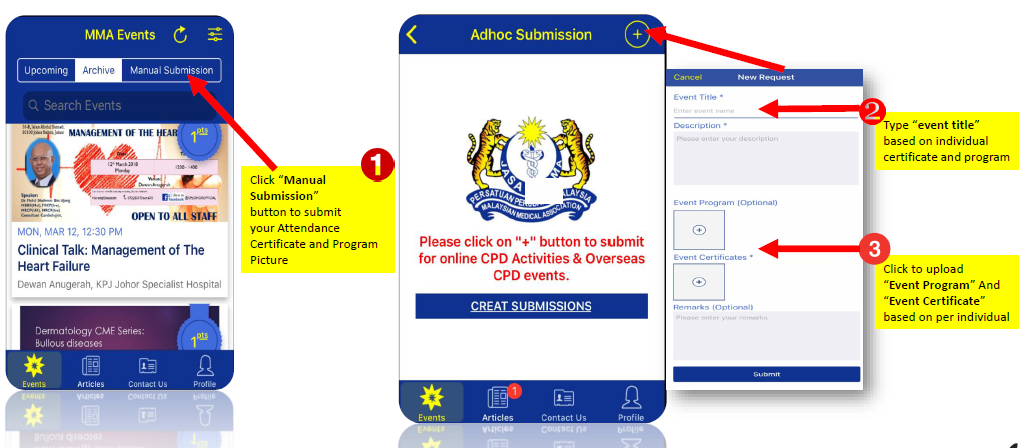 On the MMA Mobile App: (a) Click on "Manual Submission" to submit the e - certificate, (b) Click on the "+" button, (c) Under Event Title, type the title of the module completed i.e. Epidemiology and Natural History of HIV (d) Under Event Certificate, click on the "+" button to upload the e - certificate (e) Click on "Submit"
---
Is there a fixed time frame to finish this course?

No, there is no fixed time frame to finish this course. However, learners are advised to complete the course as soon as possible to receive your certificate and gain access to the upcoming HIV conference.